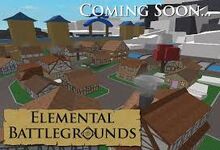 This article talks about the map. For the Element, go to Water.
Water
is one of the maps in Elemental Battlegrounds.
Geography
"Never-Drought"
Never-Drought is a plains that makes up the entirety of the map. It always rains there, and numerous low-hanging clouds can be seen. Multiple bodies of water can be seen throughout the map. 
"Water Dragon's River"
Water Dragon's River is a large body of water that takes up the majority of Never-Drought, extending from one side of the map all the way to the other. Resting beside the river are giant rocks.
"Water Dragon's Falls"
Water Dragon's Falls is a large waterfall that penetrates through Turquoise Castle to Water Dragon's River.
"Hope Mountains"
Hope Mountains are a series of rocky mountains with snowy caps located behind Turquoise Castle.
Architecture
"Turquoise Bridge"
Turquoise Bridge is a large, wooden suspension bridge that stretches from one side of the river all the way to the entrance of Turquoise Castle.
"Turquoise Castle"
Turquoise Castle are the walls of the castle are cornered with towers, and large dragon symbols can be found displayed on the walls.
"Turquoise Village"
Inside the castle is Turquoise Village, which has multiple houses and trees.
"Fountain of Fortune"
Beside the village, a stream that forms into the waterfall can be found underneath small bridges, and the small bridges lead to a platform that a fountain stands on. This fountain is the most important structure of the castle, because Diamonds and Shards are often dropped down upon it, thus making the place the map's Drop Zone.
Trivia
Many players point out that this map has the best Drop Zone.
The dragon symbols on Turquoise Castle probably resembler Water's ultimate spell, Water Dragon.
If players possessed the Aura gamepass, it will not show in this map, probably because the aura is kind of a "white fire".
The "fountain" which can be accessed through a stairway is one of the three locations on which each location a scroll could be found when the Sound element had to be obtained through a quest.
One of the game's major thumbnails takes place in what resembles the Water map.
Community content is available under
CC-BY-SA
unless otherwise noted.