Standard is the first map for beginners and the default map where you will normally spawn if you do not change the map at the Menu.
Geography
"Shattered Lands"
This is the area that makes up the entirety of the Standard map. It appears as crooked series of land sinking down similar to a crater.
"The Battlegrounds"
The Battlegrounds is a large sandy area located at the center of the giant crater of the Shattered Lands.
"Chaos Mountain"
This mountain is the tallest mountain in the map. It is located past Recovery Camp Green.
Architecture
"Recovery Camp Red"
Recovery Camp Red is a small village located on a small protrusion accompanied by a large ramp-like rock.
"Recovery Camp Blue"
Recovery Camp Blue is a small village located on a high platform accompanied by brown rocks.
"Recovery Camp Green"
Recovery Camp Green is a small village located on the lowest point of the recovery camps.
"Old Battle Arena"
There is a sandy area resembling a battle arena past Recovery Camp Red.
Servers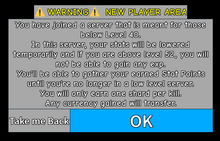 After the Menu rework update, servers were separated between 40+ and 40- servers. 40+ players that join 40- servers will get a warning window, showing that they will only get 1 shard per kill, not gain exp if they are level 52+, have their stats nerfed and not gain daily rewards. New players that just joined the game or 40- levels seldom spawns in 40+ servers. When someone that is 40+ enters Elemental Battlegrounds, they'll immediately be teleported to the 40+ server, unless if they get a "Teleport Failed" error.
2019 Christmas theme

On December 22, 2019, shortly after Technology was released, the Standard map was changed into a winter/Christmas look. It had christmas canes all over the map, and most of the grass, sand and rocks were changed to textures of snow and ice. It's appearance was similar to the scrapped Winter map, just with some differences.
Community content is available under
CC-BY-SA
unless otherwise noted.